I describe myself as a challenged sleeper. I'm in good company, with hundreds of thousands, probably millions, struggling with the same thing. Just knowing that fact gives me absolutely zero comfort when I'm awake at 4am, and I've got Taylor Swift yelling in my head for the thirteen thousandth time that I'm Bein' too loud, I better calm down…while at the same time there's a strange tapping sound coming from somewhere in the distance which is no doubt a blind ax murderer trying to find his way into my bedroom with his white cane!
This is nothing new. I've been wrestling with WOKEness for years, just not the hip planet-improving kind. And the thing about being a tricky sleeper is that even when you think you might have a shot at a great sleep, something always goes wrong.
Which leads me to my latest nocturnal disturbance. A few weeks ago I made a trip to Ontario to spend time with my dearly departed husband's siblings around his birthday. I stayed first with friends in Ottawa, Eric & Sue. Eric was my hubby's best friend in high school. Lovely people who very kindly gave me the spare room in their basement…and wine…they have an excellent wine cellar and I was happy to help reduce inventory. When we got to their place post flight, it was getting late, so we stayed up chatting for a while, but they packed it in by 11:45. Of course, I was 3 hours behind, so I went downstairs, and did my Netflix thing, and by 1am figured it was time to make an attempt at sleep. There were also two adorable Burmese cats in the house, but by the time I was heading to bed, they had made themselves scarce, off to their mom & dad's bed I assumed.
While I was flipping through a home décor magazine, waiting for slumber to take me so I could dream about granite counters, I could hear thumps and then tiny swift footsteps which I initially thought were coming from the deck outside my window. Oh great, I thought, raccoons are rearranging the patio furniture! Alright stay calm, they'll probably get things laid out the way they like it, and then they'll head off to terrorize other unsuspecting Ottawa garbage cans. But the thumping and footsteps continued, and then I realized it wasn't outside, it was coming from the ceiling above me. So now I'm pretty convinced that RATS are running through the space between my ceiling and the kitchen floor. Theres a THUMP, and then rapid footsteps rushing away from me…but then they'd rush back, then another thump, more footsteps. I thought that these were the busiest rats on the planet. Then there was a really loud thump right above my head. Now I'm waiting for rats to fall through the ceiling onto my head!! Do you think there's any question in my mind about whether I'm going to get to sleep?
So I decide to go and crash on the sofa out in the TV room. I grab a pillow, the duvet and I head to the outer room. I turn on a table lamp, and as the light fills up the space, I see something sitting in the middle of the room on the carpet and it's big! I mean this thing should have a license plat hanging of it's butt, that's how big it was. It's startled by the sudden brightness, and with lightning reflexes it dashes straight ahead. I mean it was fast. Fast like something terrifying from Alien fast! Now I'm paralyzed. What was that? What the !*#% was that! What WAS that?? What in the name of all that's….it's entirely possible I wet myself. I don't know. I was so traumatized by this, this…creature, there could have been fluids coming out of every orifice and I wouldn't have noticed. So in the nano fraction of a second that I saw this entity, here's what registered; it was BIG! and I had never seen anything like it before. I definitely stood there and I sobbed a little bit, because now I knew that for sure I wasn't sleeping that night, or any night, ever again.
When I could finally breathe, and the fluids had mostly dried, I thought Hey, wait, it's probably just a wolf spider. Any of us West Coast types have all at one time or another, had the bejeezuz scared out of us by one of those delightful arachnids surprising us in the bathtub, or the washing machine, or on that web that she built under the front steps where every so often you'd see a leg the size of a construction crane dart out on the web, meaning you had to walk away and sell your house immediately. But thanks to my husband who loved all creepy crawlies, I trained myself to live with spiders, so I thought if that's what it is, then I'll see if I can get it to move somewhere else. I finally got my feet to move, and I crept slowly over to the pouffe that it had attempted to shove itself under. I could see it, well, I could see legs, large legs, and so I felt that I was right, spider, so I started blowing on it, because they don't like that, but I was probably 4 feet away from it, just in case I was wrong and whatever it was had 'Jumping' or 'Leaping' in its name! Of course I do not have super-human blowing power, I'm no Dyson, so I moved ever so carefully closer, and I tipped the pouffe up a bit and now it's racing for the couch and it really ISN'T a spider and I'm trying to back up as fast as I can, and in my head I'm screaming "It's more afraid of me than I am of it…more afraid of me than I am of it…there's NO WAY IN HELL that it's more afraid than ME!!!"
So now here are my choices; go back to the bedroom and be chewed to death by toxic rats that fall through the ceiling, or sleep on the couch and most likely this alien being will crawl up my nose and start eating my brain. I don't use much of my brain, but there are some bits that I'd like to keep. Well, I chose the rats. So back I went, but I left the light on out in the TV room all night, knowing how much it detested light, the little vampire. Still the thumping and footsteps. It sounded like a rat superhighway!
By this time it was probably close to 3am, and I thought if I was ever going to have a chance at sleep I had to go upstairs to see if I could figure out where these rats really were and possibly engage in hand to vermin combat. I crept up the stairs, hoping that if I startled one of these evil creatures, they might actually have a heart attack at the sight of me and I wouldn't have any blood on my hands. As I poked my head around the door, there was another face staring back at me…Oh GOD it's a GIANT RAT!!! No wait, it's a CAT! It was the cats. Well, specifically the boy. He just wouldn't stop moving. It was like he'd drunk 10 espressos just before bed. Now look, I'm a cat person, I had 2 of the homewreckers for 16 years, but at night they just wanted to sleep, or pee on my clothes, but that was all quiet.
I think I finally made it to sleep around 4. When I went upstairs a few hours later, my lovely friend asked how I slept, which is what you do when you have guests. You hope they're comfortable, they sleep well, and they don't steal the silverware. I told her that I'll tell her the story, and then we're all going to laugh, mostly at ME. First she was moderately shocked at the thought of having rats, but she was super disturbed by the thought of her insomniac feline. When we got to the science experiment gone wrong that ran across the carpet, that took some thought. At first they suggested mouse, but I wouldn't have peed my pants over a mouse. I would have said, ahhhh, cute! And then I would have gone back to the bed and rats. But I knew it was insect, and it was BIG. Then they suggested centipede. I said we have centipedes where I come from, but they're not this big. However I knew it wasn't round it was long, so I thought I'd better look up Ontario centipedes. And there it was; The Ontario House Centipede…DUM DUM DUMMMM!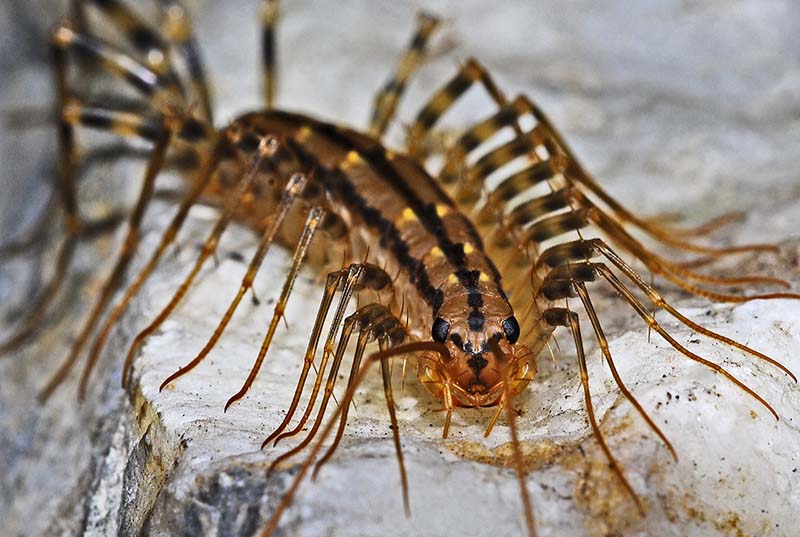 Look at this thing! Look at it!!! Where was Sigourney Weaver to help me out?? And I'm telling you it was at least TWO inches long, and you see those legs??? Yes it does have wolf spider legs, but not a measly 8 of them…a HUNDRED! OK, maybe not a hundred, but probably FORTY! You want that thing running over your face as it heads to your nose to bore through and eat your brain, and probably everything else, in 8 or 9 years. And while you're laughing at my weenyness, just know this; they apparently like to get into beds!!! How they grow that big I have no idea; nuclear power plants?…too much steam from Niagara Falls?…or maybe it's Doug Ford. I'm blaming it on Doug Ford just because it feels good. Once I've had 5 or 6 years of therapy under my belt, I'm sure I'll realize that these nightmarish critters are beneficial…perhaps therapy and pharmaceuticals.
So once I'd finished this wild story, we laughed and laughed. And then Sue asked me what I'd like for breakfast, and I said 'WINE, and just keep it coming.'
In my next life, I'd like to be a koala. They sleep 22 hours a day.
#mylifeisajoke