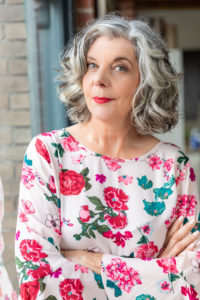 IN CASE YOU WANT TO KNOW ABOUT ME…LINDA…
I was born and raised in Vancouver, B.C. in 1958, the annoying only child of John & Ruth Cullen. Managed to squeak my way through various levels of school, got my first radio job in 1980 at CISL in Richmond B.C. Three months later came to the conclusion that I was no good at radio. Quit that job. Then 7 months later, came to the conclusion that I would probably be even worse at telemarketing, and so got my second job in radio at CKBX in 100 Mile House in B.C. Three months after that, I was hired back at CKNW as a producer, where I had worked part time while I was taking Broadcasting at BCIT. And that's where I met this guy…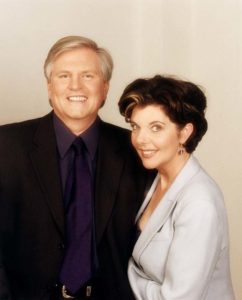 Bob Robertson and I were together (working & living) for almost 30 years, and what an incredible ride that was. We created Double Exposure, a satirical comedy show that ran first on CBC Radio for over 10 years, from 1987-1997 and then moved on to CTV and The Comedy Network for three years. In that time we performed all over Canada, and met thousands and thousands of fantastic people. There were awards and accolades, but I'm not going to list all of those here, Wikipedia does a fine job of archiving all of that. It pretty much knows what I had for dinner last night! However I will just mention that we were inducted into the B.C. Entertainment Hall of Fame in 2004, and have a star on the Walk of Fame in Downtown Vancouver, which could use a polish every so often, so if you're in the neighbourhood, I appreciate it!
Well, as you probably know, life can be funny, hopefully mostly funny-ha-ha, but sometimes it's just funny-stinking-weird. In 2017 Bob left this mortal coil and has gone to spread his hilarity on the vast cosmic stage. This was definitely not the plan, of course, who would plan that! But as Bob always said, 'Expect the unexpected.'
And so, a new page.
Let's you and I have some fun.
---
Credit: Linda's photos are by Jessica Timmins Venturi.